Sponsored by: Island Synagogue
ERUV is Pending for December 6-7
this is island synagogue
A Modern Orthodox congregation that welcomes Jews of all backgrounds
and levels of observance
Security Vestibule Informational Meeting - Sun. Dec. 15th @7pm
Sunday, December 15th at 7pm: Security Vestibule Informational Meeting
Please join us to learn about the Security Vestibule! The Security Committee is proposing to construct a security vestibule in front of the main entrance to island Synagogue. This is a significant project which would need to be approved by the congregation (at a future "special meeting" or at the Annual Meeting) as well as the board. We have prepared information about the proposal which you can see if you CLICK HERE. Please review this information before the meeting, and come with questions. There will be no binding vote at this meeting - it is strictly to communicate with the membership and take feedback.
click the flyer to register for Chanukah movie night
Next class will be December 4th @ 7PM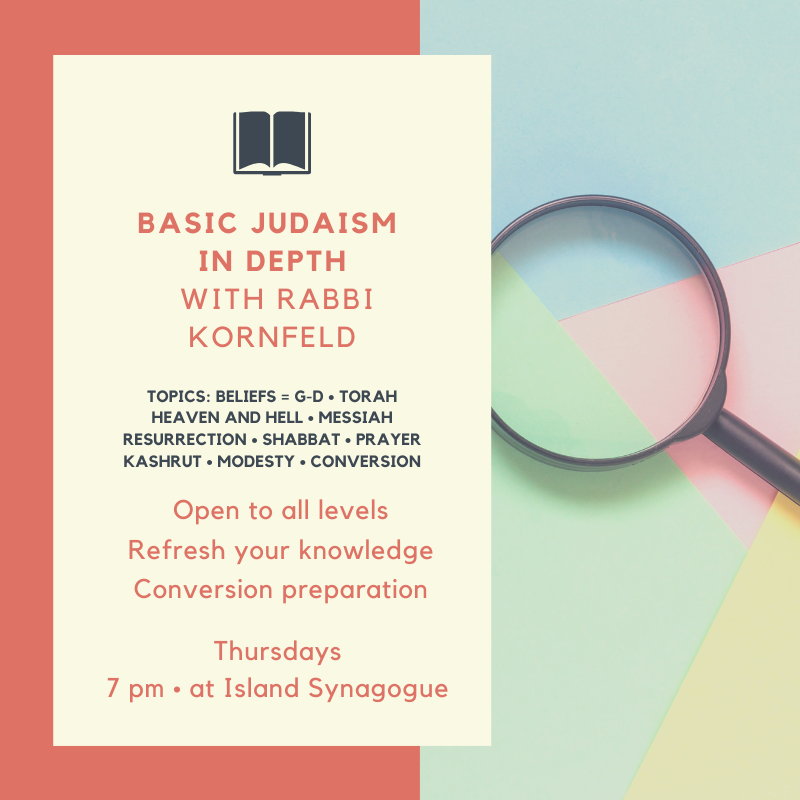 Next class will be December 4th, 1130am @ Island crust
Next class will be December 5th
Mark your calendar for lesson 2 - December 18 @ 730pm
we hope to see you on tuesday nights!
VISIT US
Our hospitality committee is dedicated to creating a welcoming atmosphere for observant Jews visiting Island Synagogue.
We can arrange lodging and meals over Shabbat and holidays for singles, couples and families. We also provide information about where to find kosher food.
If you are visiting Western Washington, or would like simply to visit Island Synagogue for Shabbat or a holiday, please contact us at Hospitality@islandsynagogue.org and we will do our best to accommodate your needs and introduce you to our warm community.
Thu, December 5 2019
7 Kislev 5780
kiddush contributors
Shabbat
Sponsored by Jon and Naomi Newman
Dedication In honor of Adina and Eliana's Bnot Mitzvah
- Catered by Leah's
Please donate to the Kiddush Fund so we can continue our wonderful Kiddushim

Rabbi Kornfeld's Hours
If you would like to schedule a meeting with the Rabbi, he is available 7 days a week depending on hs schedule. Contact Keith to schedule an appointment.
Contact Keith for access to the building during the week at office@islandsynagogue.org or 206-356-6400.
Please be sure to call or text the Rabbi at 206-679-9117 to make sure there is a minyan for weekday services.
calendars
Today's Calendar
---
Tomorrow's Calendar
Shacharit

: 7:00a
Daf Yomi

: 8:00a
Mincha/Maariv

: 4:00p
Candle Lighting

: 4:00p
Nightfall

: 5:10p
---
Friday Night
Mincha/Maariv

: 4:00p
Candle Lighting

: 4:00p
Nightfall

: 5:10p
Shabbat Day
Shacharit

: 9:30a
Mincha/Maariv

: 3:45p
Shabbos Ends

: 5:10p
Candle Lighting
Shabbat Mevarchim
View Calendar
Thu, December 5 2019 7 Kislev 5780