Sponsored by: Island Synagogue
ERUV is Pending for January 24-25
this is island synagogue
A Modern Orthodox congregation that welcomes Jews of all backgrounds
and levels of observance
Next Class will be January 16, 2020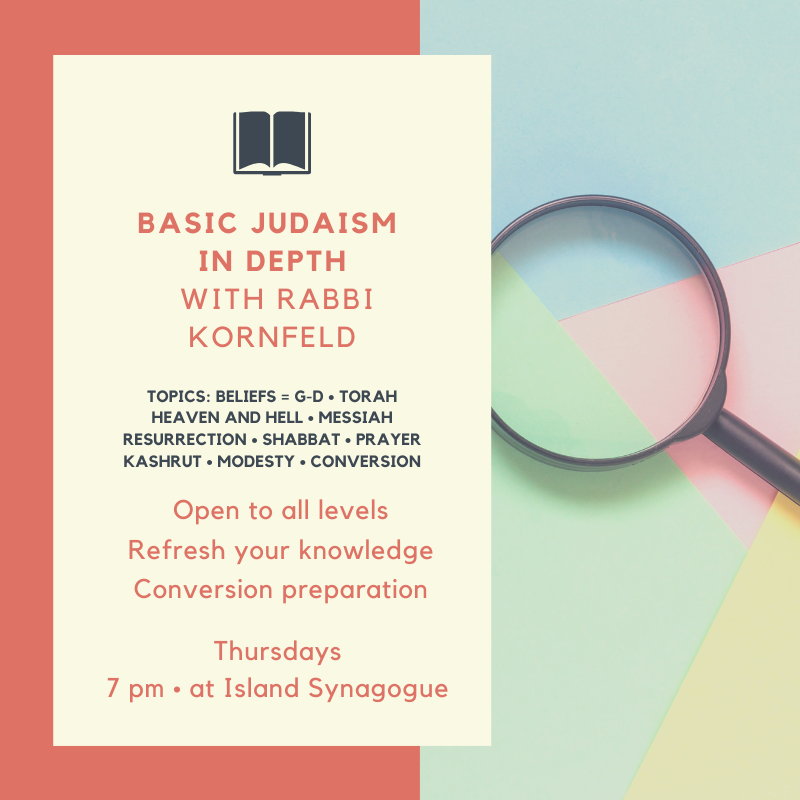 NEXT CLASS WILL BE JANUARY 15, 2020
NEXT CLASS WILL BE JANUARY 16, 2020
Mark your calendar for lesson 3 - January 22 @ 730pm

About the Course:

Insight: A Monthly Course for Women

Explore the Rebbe's philosophy, insights into life, and the Rebbe's profound, resonant messages to our generation.

This year's new 7 part course will allow us a clear window into the teachings of the Rebbe, enabling us to learn how to start seeing everything from a different perspective-a perspective that is truly liberating and life-changing.

Join us as we discover how we can experience every moment as a life steeped in goodness and kindness.
Wednesday, January 22nd, 2020 at 7:30 P.M. at Island Synagogue
Please email roshchodeshmi@gmail.com to register.
we hope to see you on tuesday nights!
VISIT US
Our hospitality committee is dedicated to creating a welcoming atmosphere for observant Jews visiting Island Synagogue.
We can arrange lodging and meals over Shabbat and holidays for singles, couples and families. We also provide information about where to find kosher food.
If you are visiting Western Washington, or would like simply to visit Island Synagogue for Shabbat or a holiday, please contact us at Hospitality@islandsynagogue.org and we will do our best to accommodate your needs and introduce you to our warm community.
Mon, January 20 2020
23 Tevet 5780
kiddush contributors
Upcoming Shabbat 1/25/2020
Standard Kiddush
Sponsored By:
THE KIDDUSH FUND
Please donate to the Kiddush Fund so we can continue our wonderful Kiddushim

Rabbi Kornfeld's Hours
If you would like to schedule a meeting with the Rabbi, he is available 7 days a week depending on hs schedule. Contact Keith to schedule an appointment.
Contact Keith for access to the building during the week at office@islandsynagogue.org or 206-356-6400.
Please be sure to call or text the Rabbi at 206-679-9117 to make sure there is a minyan for weekday services.
calendars
Today's Calendar
Daf Yomi

: 8:00a
Shacharit

: 8:00a
Nightfall

: 5:42p
Maariv

: 8:00p
---
Tomorrow's Calendar
---
Friday Night
Mincha/Maariv

: 4:40p
Candle Lighting

: 4:40p
Nightfall

: 5:48p
Shabbat Day
Shacharit

: 9:30a
Mincha/Maariv

: 4:26p
Shabbos Ends

: 5:49p
Candle Lighting
Shabbat Mevarchim
View Calendar
Mon, January 20 2020 23 Tevet 5780