Sponsored by: Island Synagogue
ERUV is Pending for November 15-16
this is island synagogue
A Modern Orthodox congregation that welcomes Jews of all backgrounds
and levels of observance
we hope to see you toniGHT (11/14) @ 7pm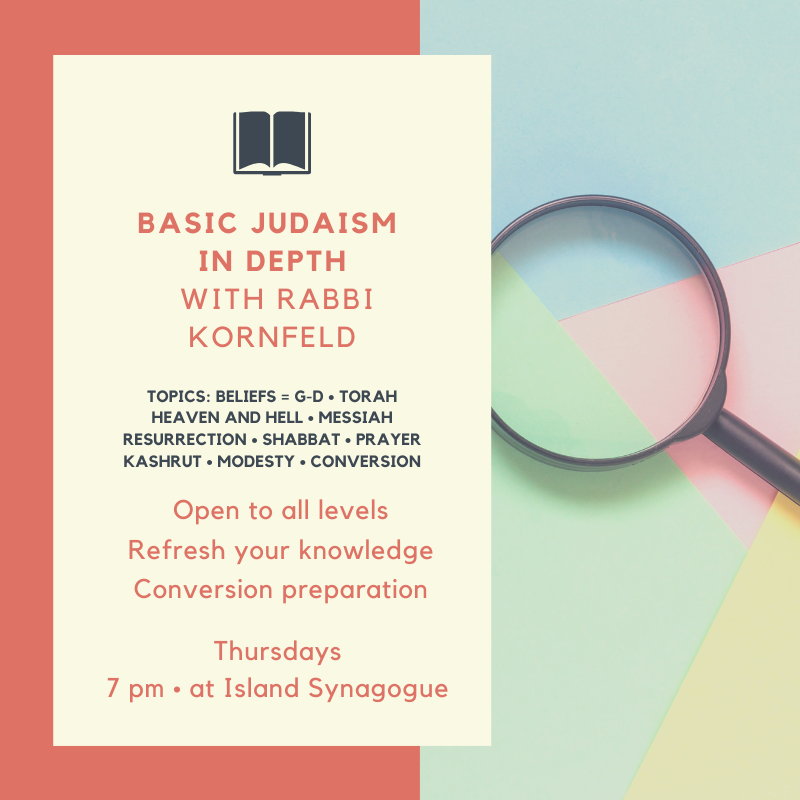 Free Admission - All proceeds support Island Synagogue
we hope to see you on tuesday nights!
Be sure to register for next wednesday's class
LESSON 1: This Wednesday!
Changing of the Garden: a World Abloom in Goodness
With the Rebbe's outstanding, indefatigable optimism, he taught that all that transpires in the universe are expressions of G-d's beautiful "garden." How can we dig beneath the surface and uncover that wellspring of goodness and virtue? Gain insight into a different view of the world.
Wednesday, November 20, 2019 AT 7:30 P.M.
Please email roshchodeshmi@gmail.com to register.
VISIT US
Our hospitality committee is dedicated to creating a welcoming atmosphere for observant Jews visiting Island Synagogue.
We can arrange lodging and meals over Shabbat and holidays for singles, couples and families. We also provide information about where to find kosher food.
If you are visiting Western Washington, or would like simply to visit Island Synagogue for Shabbat or a holiday, please contact us at Hospitality@islandsynagogue.org and we will do our best to accommodate your needs and introduce you to our warm community.
Thu, November 14 2019
16 Cheshvan 5780
kiddush contributors
Shabbat
Sponsored by Jonathan and Miriam Friedman
Dedication In honor of the Bar Mitzvah of our son, Jacob Friedman
Please donate to the Kiddush Fund so we can continue our wonderful Kiddushim

Rabbi Kornfeld's Hours
If you would like to schedule a meeting with the Rabbi, he is available 7 days a week depending on hs schedule. Contact Keith to schedule an appointment.
Contact Keith for access to the building during the week at office@islandsynagogue.org or 206-356-6400.
Please be sure to call or text the Rabbi at 206-679-9117 to make sure there is a minyan for weekday services.
calendars
Today's Calendar
---
Tomorrow's Calendar
---
Friday Night
Shabbat Day
Shacharit

: 9:30a
Mincha/Maariv

: 3:59p
Shabbos Ends

: 5:21p
Candle Lighting
Shabbat Mevarchim
View Calendar
Thu, November 14 2019 16 Cheshvan 5780